SASER and Celtic-Plus Events
Major European communications technology companies signed a memorandum of understanding for the development of secure network technologies at the "Secure Communications for Europe" conference in Berlin on 24 June 2014.This event was co-organised by the Celtic-Plus SASER Project and the Celtic-Plus EUREKA European R&D Programme. All details can be found here.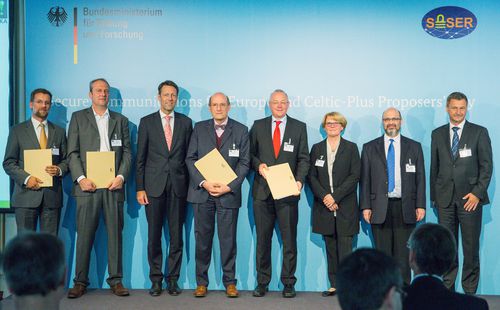 After signing the SASER memorandum of understanding (from left):
Dr. Andreas Leven (Alcatel-Lucent), Christoph Glingener (CTO of ADVA), Dr. Georg Schütte (State Secretary, BMBF – German ministry for education and research), Alain Maloberti (Senior VP Network, Orange), Dr. Hermann Rodler (Managing Director, NSN Germany), Cornelia Rogall-Grothe (State Secretary, BMI – German ministry of the interior), Jacques Magen (Chairman of Celtic-Plus and of InterInnov), and Wilhelm Dresselhaus (CEO of Alcatel-Lucent Germany).
(copyright: hannibal/BMBF)
This event was followed by a Celtic-Plus Proposers' Day on 26 June. All presentations are available here.